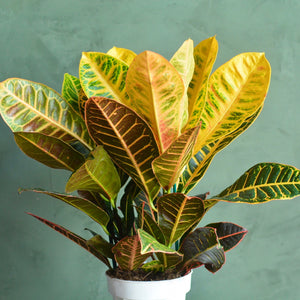 Plant Requirements:
Loose fast-draining soil.
Full sun and minimal shade indoors

Water thoroughly when top inch of soil feels dry to the touch
Fertilize monthly in Spring and Summer
Don't panic if your plant drops a few leaves upon arrival. Generally, the Croton Petra does not like to be moved, so a few falling leaves within a week doesn't mean you are doing anything wrong.
Ships in its original nursery pot with soil.